Kristoffer Ardeña:
Bayan
January 20th - 31st, 2021
Exhibition
Tanjong Pagar Distripark, Singapore
S.E.A. Focus 2021
Tropical Futures Institute participated as an exhibitor for S.E.A. Focus 2021, Singapore alongside artist Kristoffer Ardeña
Instagram:
@kris_ardena
E-mail:
kristofferardena@gmail.com
---
ARTIST PAGE
works for sale
COLLABORATORS
PROJECTS
For inquiries on works for sale, e-mail
sayoka@tropicalfutures.institute
---
Tropical Futures presented Kristoffer Ardeña in a solo presentation titled, 'Bayan' in S.E.A. Focus 2021. Work was be shown physically at the 'hyper-horizon' exhibition in Singapore and online through Artsy. The exhibit featured Ardeña's performative and conceptual work from when he just moved back to the Philippines and his signature series, Ghost Painting (Cracked Category). The thematic direction with Ardeña for the year, 'Bayan', creates discourse around a nation's concept and translates the archipelago from a geographic feature into a mental model that empowers his own practice and vision of the world.
GHOST PAINTINGS (CRACKED CATEGORY)
Ghost Painting (Cracked Category): National Bookstore, 34 pieces (44x34 cm each, 176x306 cm 34-piece dimensions), Elastomeric paint on canvas, 2020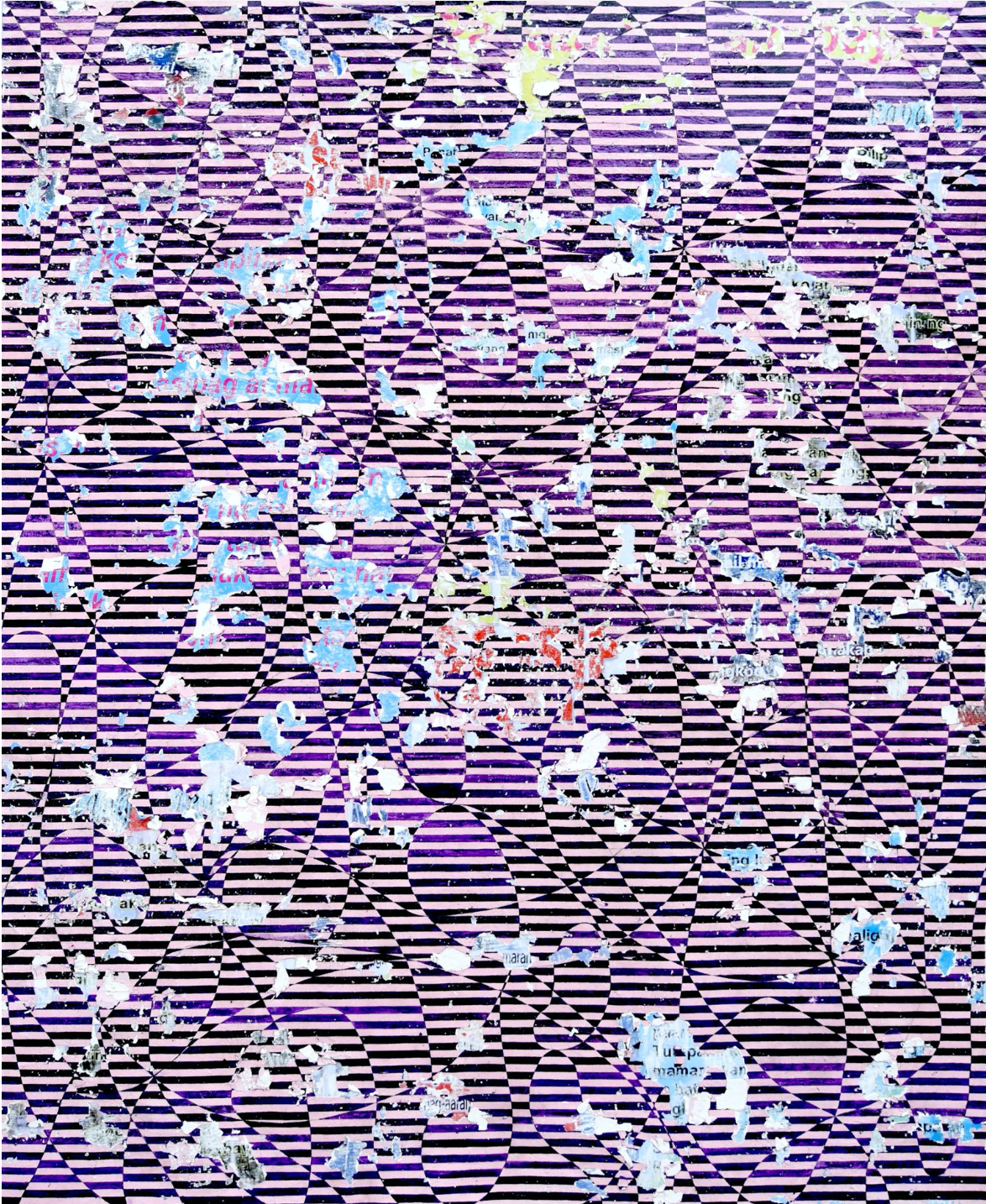 Ghost Painting (Cracked Category): Swimsuit for Miquee, Painting in public spaces Latex on woven PVC fiber, variable 2020
This painting/ swimsuit was made for Miquee, a transexual woman from Bago City in Negros Island, PH. The tarpaulin was printed with a portrait of Miquee inspired by Lino Brocka's movie Scorpio Nights. Kris wanted to make a painting in which Miquee would be able to explore and express her womanhood on her own terms and with the help of her friends Jeremiah Gazo, a fashion designer and Remus Pediengco, a photographer and jewelry designer.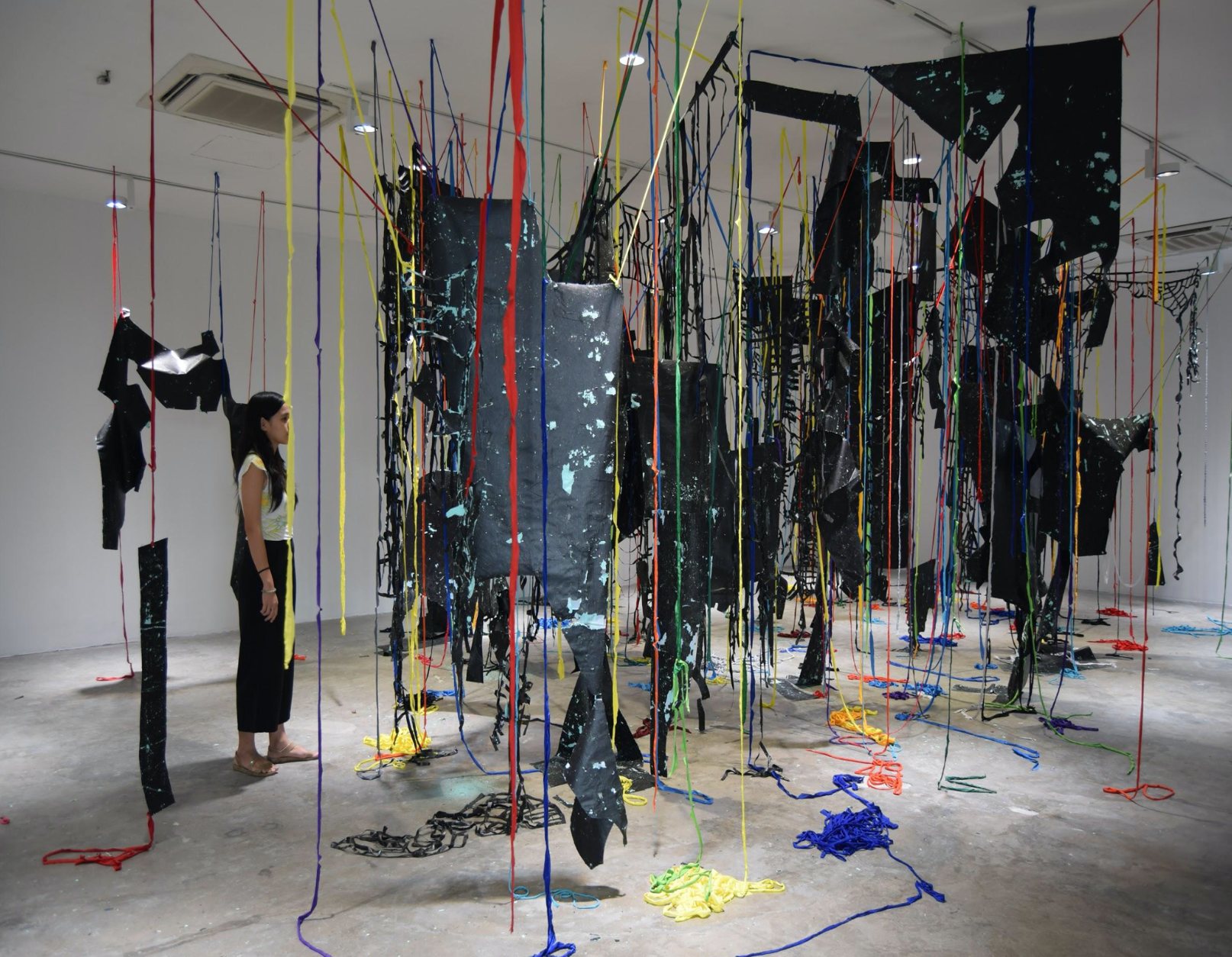 Ghost Painting (Cracked Category): Bacolod Landscape, Painting installation, 40 pieces painted and cracked tarpaulin, 8x4ft each, Street maps of Bacolod cut out 2020
Note
— Sold as commissioned artwork consisting of 40 pieces of 8x7 ft street maps of cities
Installation options
— Can be installed all together or the collecto can choose to only display one or several pieces in different configurations. Does not have to be installed hanging from the ceiling. The work can be hanged from a wall or in combination with other objects of the collector's choosing
SUGARLANDIA
Sugarlandia, Performance, 2014
Topographical map of the Philippines made of sugar is slowly deconstructed and finally disappears. Ants carry the sugar grains back to their ant hills.
GUMAMELA APPARITION (GEOGRAPHICAL MAP OF THE PHILIPPINE ISLANDS CUT OUT OF HIBISCUS LEAVES)
Gumamela Apparition (Geographical Map of the Philippine Islands Cut Out of Hibiscus Leaves), Ephemeral Intervention / Performance, 2013
SPATIAL RELIEF: BANANA LEAVES WITH BAMBOO STICKS
Spatial Relief: Banana Leaves with Bamboo Sticks, Sculpture, 14x24x34 cm, 2014
Bayan by Kristoffer Ardeña was featured at Tanjong Pagar Distripark, Singapore from January 20-31, 2021 for S.E.A. Focus 2021.
CREDITS — Photography:
Toni Cuhadi