Philippine Love Songs Hoodie

2020
Merchandise
Peninsular Productions is a facet where our organisation works with Exhibitions, Art Fairs, The pocket-sized consultancy has developed a specialisation in curation, insights and artist representation particularly int he topic of the liquid futures and speculative design. We bring insight into art, tropicalities and culture.
Product details:
12oz Reverse Weave Champion Hoodie.
Silked screened in Brooklyn
Back, front, and sleeve prints
Our Pilita Corrales bootleg fan version hoodie inspired off her 'Philippine Love Songs' compilation album. We also wanted to create this garment after reading "Filipino Folk Foundry" by Hardworking Goodlooking and contribute to championing the research they have done regarding Filipino typography and script research.
We stumbled upon this graphic visiting a music museum in Cebu, Philippines, Jose R. Gullas Halad Museum; a museum that pays tribute to the musical heritage of Cebu, Philippines.
We hope this hoodie helps spread not only contemporary Filipino graphic aesthetic but also tropical graphic aesthetics.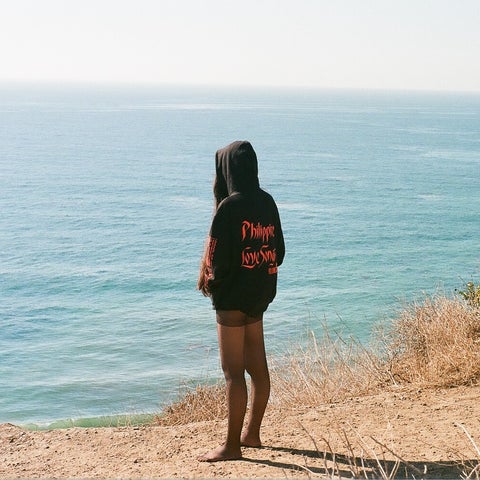 https://eyeondesign.aiga.org/the-eye-on-design-guide-to-the-glorious-distorted-world-of-typographic-tees/