Sarong / Lungi / Izar / Dhoti / Lavalava / Malong / Pareo

Adrienne Campos, Chris Fussner
June 17, 2021
Online
It's essential to question the power of dress. Sarong, Malong, et al. is part of these questions regarding what is normal, especially as our styles continue to homogenize through social media and online shopping. Although one could argue that as subcultures find homes beneath the clearnet styles continue to permutate outside of mainstream visual feeds. Whatever the case, we love the sarong and wanted to produce something outside of our current language of t-shirts and hoodies. We feel it is an ideal garment that is multi-functional and has utility beyond its different dress forms.

The pattern that Zeus Bascon created while he was in Cebu two years ago is now just stuck in our head; we were inspired by the energy the silver metal cutouts held. We scanned and transformed the work into the pattern you see above the Batik today.

We were also apprehensive about doing something with Batik, a dream to work with the patterns but so hard to develop something that may take on a new form and celebrate the Batik in a new way. The output of these different facets also ran through our longing for the rave, the smog juice, and sonic therapy.

We combined the work of Zeus Bascon, the silver print on top of the Javanese Batik that we bought from Toko Aljunied in Singapore near our old office. The sarongs were printed and sewn up in Singapore by Konstrukt Labs. An archipelagic collaboration and process from Java, Singapore, Cebu, to Manila.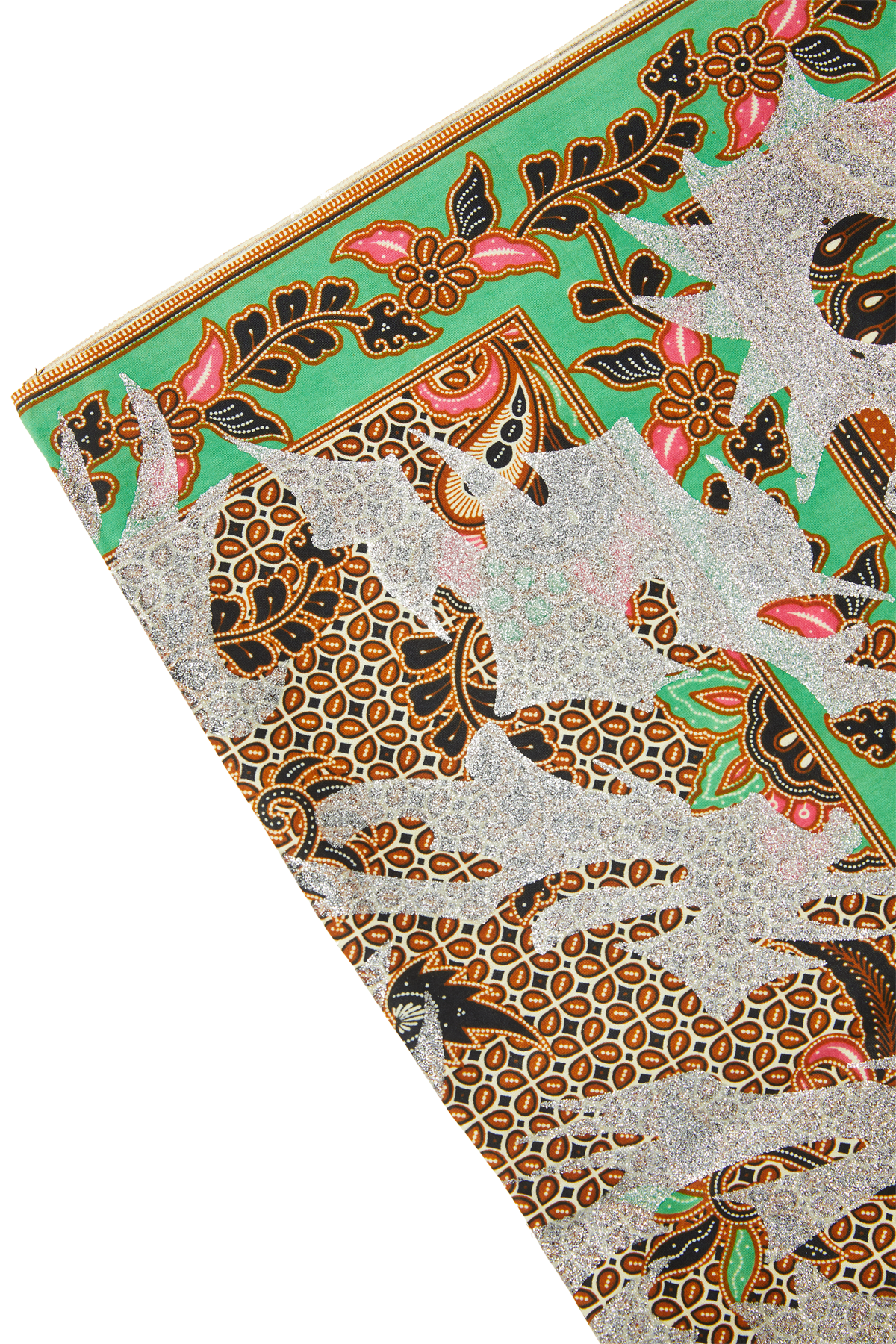 WHY (SARONG / LUNGI/ IZAR/ DHOTI/ LALAVA / MALONG / PAREO / SARUNG)?
(For simplicity, we use 'sarong' as it is the first word that name for the garment that I learned about) I grew up in a household where my Dad would always wear a sarong, and also, at the time in Singapore, it wouldn't be uncommon to see people wearing Sarongs to formal gatherings or traditional events. I would also sport a sarong around the home; it wasn't till I went to university and my first-year roommate thought it was weird I was wearing a 'skirt.'
It wasn't till after I started working in the garment industry that I began to question the criticality of why the Sarong and other majority world costume was absent and how denim and other western forms of clothing had more or less homogenized many stylistic elements of dress throughout the world.
I hadn't read any postcolonial literature at this point, but the idea stuck, and I would start to wear a sarong as a statement from time to time.
Beyond this as a garment, it is nearly perfect. It is amorphous and can adapt to whoever wears it and can change into various items such as bags, scarves, headpieces, cloaks, dresses, etc.
WHAT IS THE HISTORICAL AND CULTURAL SIGNIFICANCE OF THE SARONG?
The Sarong has trans-local elements where its different names (Sarong, Lungi, Izar, Dhoti, Lavalava, Malong,
Pareo, Sarung) travel through other parts. Without getting too specific on how the garment had diffused through Southeast Asia and other parts of the world, it's marvelous to see it adapted through so many cultures across
the tropics.
The importance of reintroducing different narratives of garments into contemporary society helps to signal diversity. It honors the history of the garment by celebrating it in the present by wearing it outside of traditional or societal norms.
HOW DID YOU COME UP WITH
THE SILVER PATTERNS?

The pattern is a collaboration with Zeus Bascon and me; it's a direct reference to his silver cut-out tribal insignia artworks. I scanned, manipulated, and then tesselated the symbols into a pattern. In early 2019 Zeus traveled to Cebu as part of a group show, 'Resetting the Clock,' a group new media photography show that traveled from the Cultural Center of the Philippines to 856G/Tropical Futures
in Cebu. I just kept thinking about the cut-outs and wanting to do something with them. I believe that parallel aesthetic trends are pointing towards this sort of symbol, and it also has some kind of deeper time relationship with different islands and archipelagos.

The silver part of the pattern pays homage to the original artwork but also fits in line with a rave aesthetic; I made these amid lockdown, and I was missing the fog juice so much. In my mind, the silver pattern also creates a great juxtaposition against the non-descript (the patterns have no symbolic meaning besides being beautiful) Javanese batik pattern. I had always dreamed of working with Batik, but it's hard to make it go well since the Batik is powerful.


HOW AND WHERE WERE THE SARONGS MANUFACTURED?
WHAT SORT OF IMPACT ARE YOU TRYINIG TO ACHIEVE WITH THE RELEASE OF THIS SARONG LINE? WHO OR WHAT WAS THE INSPIRATION BEHIND THE LINE?
The textiles are from Java, Indonesia, and they were
sewn and printed with neighbors and friends in Singapore.
My old studio c. 2008-2010 was on Haji Lane, so it was perfect to finally get to work with neighbors like Toko Aljunied for the Sarong fabric and then Konstrukt for
the silkscreening When I was working out of Haji, I always wanted to use Batik or Woodblock somehow, but it is easy to do a disservice to the patterns used since they are strong. This piece runs full circle in many ways and is technically my first cut & sew piece since 2012.

We will take it slow, but I'd like it to be a vessel that allows TFI to collaborate with more artists and bring the work to life in a context that resonates with our overall mission of pushing contemporary ideas around the tropics to a
global audience.

We love doing the micro releases for the t-shirts, hoodies, and so on, but we wanted to do something more in line with our home base and incorporate other parts of TFI into a physical object.


The Sarong emerged from this thought process because it is versatile and simple enough for us to produce without taking on some of the risk involved with making cut & sew objects. Because of its properties of being a fabric, it also opened up the idea of having artwork on the Sarong itself.

SARONGS ARE GAINING POPULARITY; VOGUE JUST DID AN ARTICLE ON BRANDS THAT ARE RELEASING SARONGS. CULTURAL/TRADITIONAL COSTUMES ARE GAINING POPULARITY WITH LOTS OF DIFFERENT VARIATATIONS TO THEM. HOW CAN WE PROPERLY APPROPRIATE THESE? WHAT MUST WE BE MINDFUL OF?

I think the critical thing is to be aware of the symbolism these costumes hold. It was vital to make sure that the Batik patterns on the Sarong were just purely decorative. Despite the exoticism attached to the Sarong stemming from Western media narratives, it is not going away.


We can only do our best to write our own stories with these Sarongs and enter the conversation. At least the exoticism is usually authentic and not a pure weaponization of the culture.
These different meta-narratives running around traditional cultural and traditional costumes may not always be 100% correct, but they will definitely produce hybridity as they continue to weave their own stories.
WHY IS IT ESSENTIAL TO DISCUSS MAJORITY
WORLD FASHION?

It's essential to include other voices in global conversations; unfortunately, there aren't enough cultural institutions in the tropics that hold massive amounts of cultural capital that can shift trends and create movements like a house in Europe or a museum in America.
Thankfully, there is a signal globally that is highlighting majority world contemporary culture and shining more light on it, especially within the Tropical frame. It's a good time for everyone to keep building on this momentum and continue to create a hybrid and distributed future regarding cultural production and influence going forward.


DO YOU THINK PRODUCTS LIKE THESE HELP PEOPLE WHO MOVED AWAY OR HAVE NEVER BEEN TO THEIR HOMELAND FEEL MORE CONNECTED TO THEIR COUNTRY AND CULTURE?

I am not sure; some of the things we have made have fallen into that category as it came out of self-discovery and nostalgia; two very powerful design tropes There is definitely some connection to one's roots in this garment, and it may hold an uncanniness to something from the point of origin. However, I think the product tries to create slight familiarity but in a new context.
WHAT'S NEXT IN THE WORLD FOR FASHION?

I'm so out of the loop; I hope for circular design, production, and consumption to be a growing trend that then becomes a norm.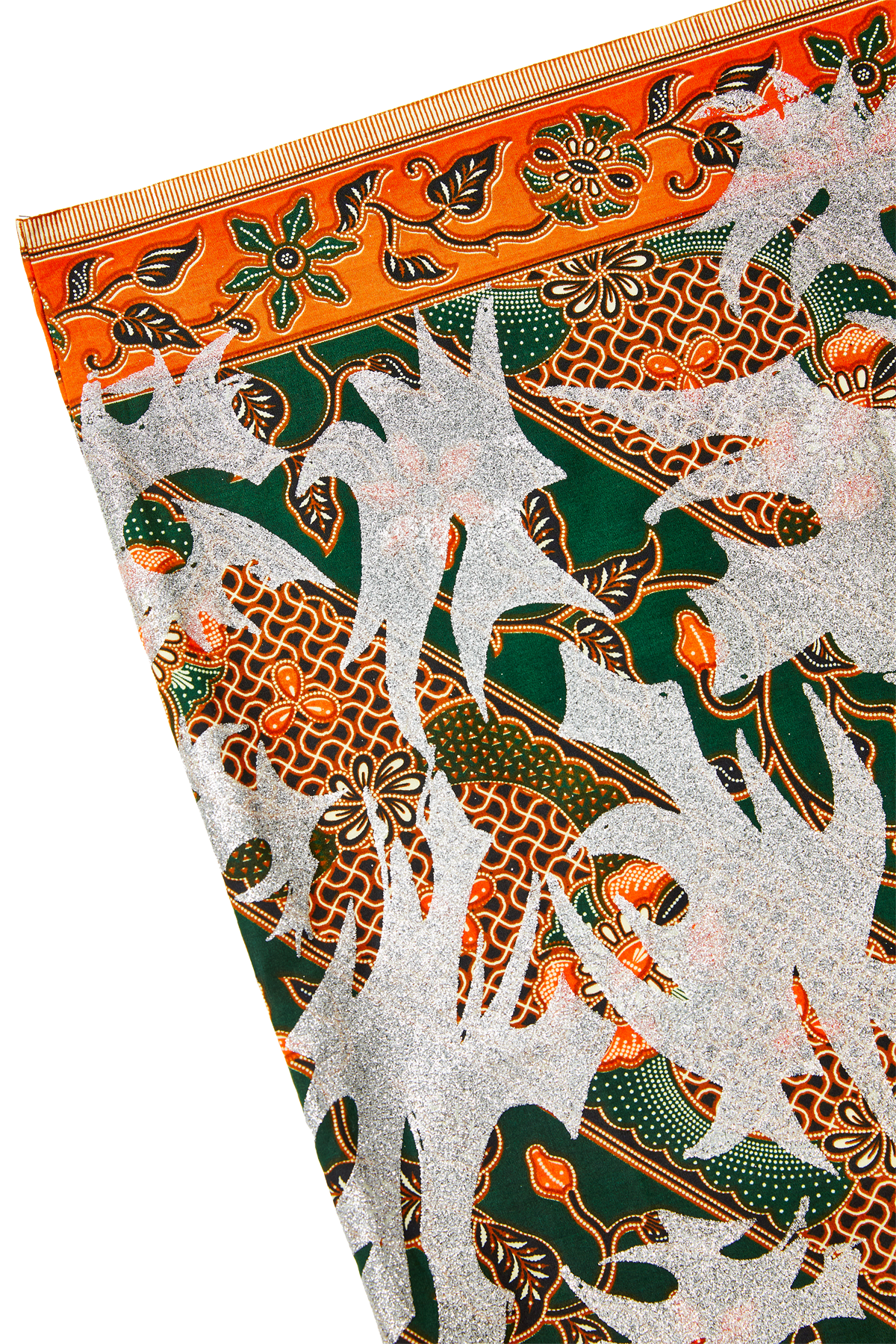 CREDITS — Product Photography: Aaron Bengo / Styling and Campaign: Melissa Levy / Models: Hannah Locsin, Ade Kassim, Elijah Anderson, Casimir Fussner, Chris Fussner