Tammy Nguyen
Tammy Nguyen is a multimedia artist whose work spans painting, drawing, printmaking and book making. Intersecting geopolitical realities with fiction, her practice addresses lesser-known histories through a blend of myth and visual narrative. She is the founder of
Passenger Pigeon Press
, an independent press that joins the work of scientists, journalists, creative writers, and artists to create politically nuanced and cross-disciplinary projects.
Website:
tammynguyenstudio.com
Instagram:
@tammowhammo
E-mail:
tammyvonguyen@gmail.com
---
works for sale
projects
For inquiries on works for sale, e-mail
sayoka@tropicalfutures.institute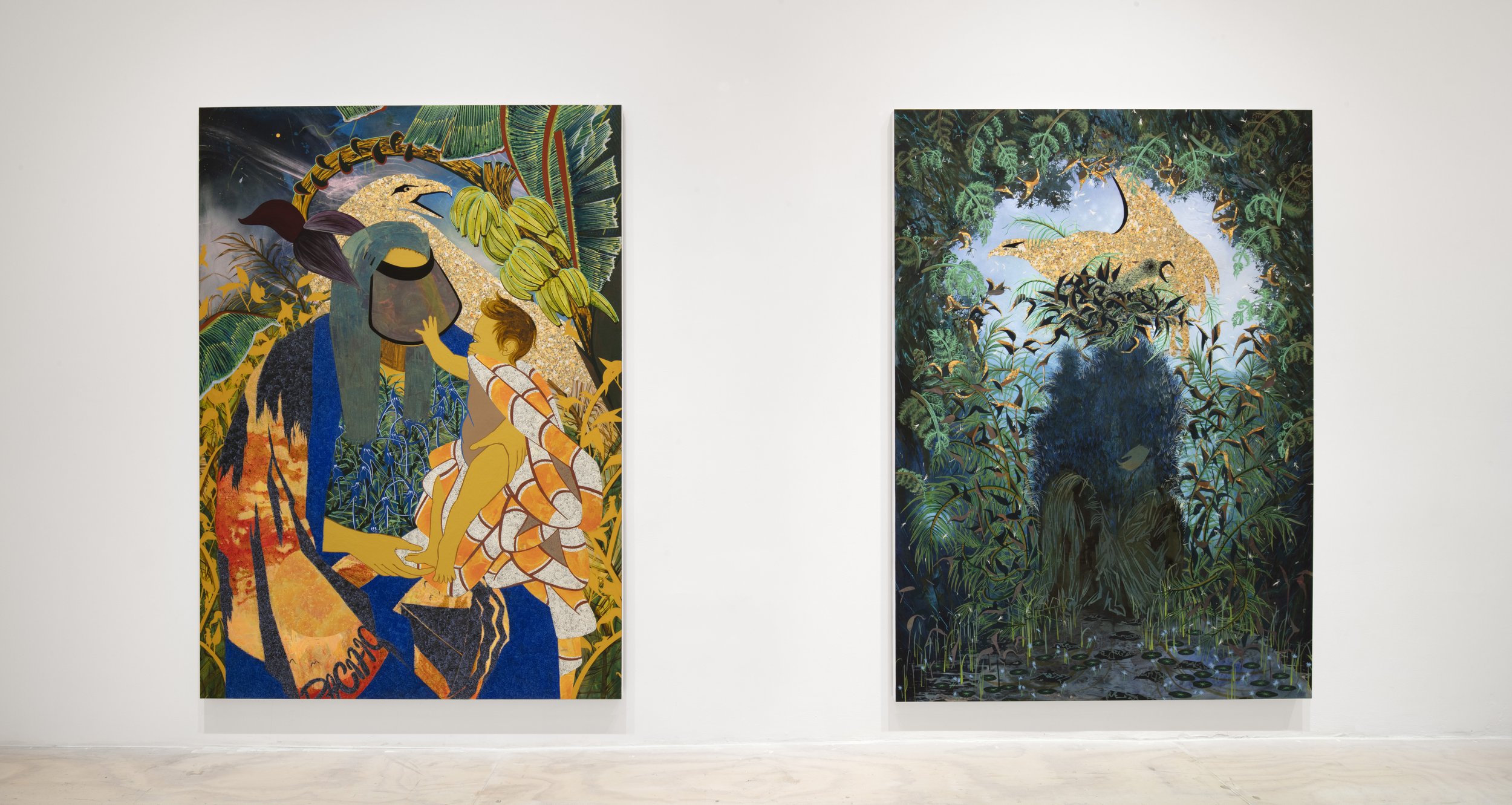 ---
Born in San Francisco, Nguyen received a BFA from Cooper Union in 2007. The year following, she received a Fulbright scholarship to study lacquer painting in Vietnam, where she remained and worked with a ceramics company for three years thereafter. Nguyen received an MFA from Yale in 2013 and was awarded the Van Lier Fellowship at Wave Hill in 2014. She has exhibited at the Rubin Museum, The Factory Contemporary Arts Centre in Vietnam, and the Bronx Museum, among others. Her work is included in the collections of Yale University, the Philadelphia Museum of Art, MIT Library, the Seattle Art Museum, the Walker Art Center Library, and the Museum of Modern Art Library.
Education—

• M.F.A. in Painting/Printmaking, Yale University School of Art, New Haven, CT, 2013
• B.F.A., The Cooper Union School for the Advancement of Science and Art, New York, NY, 2007
• Fulbright Fellow, Vietnam, 2007-2008
• The Yale Summer School of Music and Art, Norfolk, CT; Summer 2006
Awards and Residencies—

• NYSCA/NYFA Fellowship Award in Painting, 2021
• N-Square Network Fellowship, 2018
• Asia Delegate, The Carnegie Council for Ethics and International Affairs, New York, NY, 2017
• Joan Mitchell Foundation Nomination in Painting, 2017
• Lower Manhattan Cultural Council, Process Space, 2017
• Juror's Selection, Spectrum, Carriage Barn Arts Center, New Canaan, CT, 2015
• Scholarship for Advanced Studies in Book Arts, The Center for Book Arts, 2014-2015
• The Van Lier Fellowship, Wave Hill, 2014
• The Bronx Artist-in-the-Marketplace Bronx Museum, 2014
• The Helen Winternitz Award, Yale School of Art, 2013
• Yale Southeast Asian Council Research Grant, Yale University, 2012
• Fulbright Grant to Vietnam, 2007
• Michael S. Vivo Memorial Prize in Drawing, 2007
• Ellen Battell Stoeckel Scholarship; Yale Summer School for Music and Art, 2006
• Full-Tuition Scholarship; The Cooper Union for the Advancement of Science and Art;. 2003-2007
Solo and Two-Person Exhibitions—

2021
•
Freehold,
Smack Mellon, Brooklyn, NY
•
O,
Two person exhibition with Thad Higa, curated by Marine Cournet, Five Myles, Brooklyn, NY
2020
•
Cave Matter,
Hesse Flatow (online), New York, NY
•
Facing New Axes,
Two person exhibition with Adam deBoer, Hunter Shaw Fine Art, Los Angeles, CA
2019
•
The Ship Named Atlast
, Virginia Commonwealth University, Richmond Virginia
•
Necessary Fictions
, Two person exhibition with Ha Ninh Pham, curated by Zoe Butt and Bill Nguyen
•
The Ship Named Atlast
, Lightwell Gallery, University of Oklahoma, Norman, OH
2018
•
One Blue Eye, Two Servings
, Two person exhibition with Nicole Won Hee Maloof, curated by Alison Karasyk, CRUSH Curatorial, NY
•
The Straits,
Mariboe Gallery, Peddie School, Highstown, NJ
2017
•
How to Breathe in Selected Tropics,
The Joan Flasch Artists' Book Collection, The School of the Art Institute in Chicago, Chicago, IL
•
Primate City,
Ground Floor Gallery, curated by Dexter Wimberly, Brooklyn, NY
2015
•
Primate Cities (on the wall)
, Tree Top Chamber Music Society, Stamford, CT
2014
•
Chickens of the Torrid Summer
, Norwalk Community College, Norwalk, CT.
•
Hermes, the Epiphytes
, Wave Hill, Bronx, NY.
2010
•
My Diary From That Battle of 10,000 Ships, L'usine Gallery
, organized by San-Art, Ho Chi Minh City, Vietnam
2008
•
Đ
ồ
Đ
ạ
c Đi Đôi
, The Ho Chi Minh City Fine Arts University, Ho Chi Minh City, Vietnam
Happenings:
2018
•
The Color Curtain Project DC
, Eaton Workshop, Washington DC
Selected Group Exhibitions—

2021
• Do We Dream Under the Same Sky,
8 Bridges Galleries, San Francisco, CA
• Nha,
The Factory Contemporary Arts Centre, Ho Chi Minh City, Vietnam
•
Where the threads are worn,
Casey Kaplan Gallery, New York, NY
•
Small,
Nichido Contemporary Art, Tokyo, Japan
• Art Fair Tokyo, Nichido Contemporary Art, Tokyo, Japan
• Printed Matter's Virtual Art Book Fair
•
The Symbolists,
Hesse Flatow, New York, NY
2020
•
Americans Looking In,
The Center For Book Arts,
c
urated by Emilie Ahern and Sherri Littlefield, New York, NY
• Neo-Ornamentalist Redux, Spring Break Art Fair 2020, curated by Nina Horisaki-Christens, New York, NY
2019
•
Sower,
Rubber Factory, New York, NY
• Untitled Art Fair, Miami Beach, Hesse Flatow, Miami, FL
•
Drinking the Reflection
, curated by Elizabeth Malaska, Russo Lee, Portland, OR
•
In the Weeds: Art and the Natural World
, Wheaton College, Weaton, MA
• Printed Matter Art Book Fair, Dome Spotlilght, PS1, Queens, NY
•
Curiously Enough Vol. 2
, Nichido Contemporary Art, Tokyo, Japan
•
Curiosly Enough,
Nichido Contemporary Art, Taipei, Taiwan
•
Harlem Perspectives
, Factions Art Gallery, curated by Leanne Stella, New York, NY
2018
•
Face of the Future,
The Rubin Museum, New York, NY
•
Myth, Memory, and Migration: Stories from the Asian Diaspora ,
NARS Foundation, Brooklyn, NY
2017
•
Chicago Art Book Fair,
Chicago Athletics Club, Chicago, NY
•
Food from Shadows, a Refugee Resistance Menu,
First Sip Cafe, Chicago, NY
•
Call and Response,
Wave Hill, Bronx NY
•
Press Play,
Pioneer Works, Brooklyn, NY
•
Smithsonian Asian American Literature Festival
, The National Portrait Gallery and Phllips Collection, Washington DC
•
Terrestrial Resonance,
Harlem Properties, Art in FLUX, New York, NY
•
Blonde Art Book Fair ,
Knockdown Center, Queens, NY
•
Loving Blackness,
Asian Arts Initiative, Philadelphia, PA
•
Allusions,
JCC Harlem, New York, NY
2016
•
Beautiful World Book Fair,
Passenger Pigeon Press, Philadelphia, PA
•
Odds and Ends,
Passenger Pigeon Press, Yale University Art Gallery, New Haven, NY
•
New York Art Book Fair
, Passenger Pigeon Press, New York, NY
•
Independent Art Book Fair
, Passenger Pigeon Press, New York, NY
•
FLUX Art Fair
, New York, NY
•
Philadelphia Art Book Fair
, Philadelphia, PA
2015
•
Odds and Ends
, Yale University Art Gallery, New Haven, NY
•
2015 Scholars Exhibition
, The Center for Book Arts, New York, NY
•
Bronx Calling: Bronx Museum 3rd AIM Biennial
, Bronx Museum, Bronx, NY
•
Goodbye to the 40th Anniversary of the Vietnam War
, apartment show, Chicago, IL
•
Spectrum
, Carriage Barn Arts Center, New Canaan, CT
2014
•
DRAW: Mapping Madness,
Inside-Out Museum, Beijing, China
•
Outside the Margin
, Pyramid Atlantic Art Center, Silver Spring, MD
•
Thresholds of Motion,
San-Art, Ho Chi Minh City, Vietnam
•
Bronx Speaks: No Boundaries
, The Bronx Museum, Bronx, NY
•
The Last Brucennial
, New York, NY
2013
•
Exile,
El Ricon Gallery, Houston, TX
•
The Morphology of Print
, Lehman College Art Gallery, Bronx, NY
•
Come Together: Surviving Sandy
, Industry City, Brooklyn, NY
•
Yale MFA Painting/Printmaking Thesis Group 1
, New Haven, CT