Tammy Nguyen:
Freehold
January 15th - 23rd, 2022
Exhibition
Tanjong Pagar Distripark, Singapore
S.E.A. Focus 2022
Tropical Futures Institute participated as an exhibitor for S.E.A. Focus 2022, Singapore alongside artist Tammy Nguyen.
Website:
tammynguyenstudio.com
Instagram:
@tammowhammo
E-mail:
tammyvonguyen@gmail.com
---
ARTIST PAGE
works for sale
COLLABORATORS
PROJECTS
For inquiries on works for sale, e-mail
sayoka@tropicalfutures.institute
---
Freehold for SEA Focus presents four new portraits by Tammy Nguyen. The images expand on her work inspired by Forest City, a man-made, plant covered, tax-free Malaysian island located in the Singapore Strat between Malaysia and Singapore. Nguyen visited the island in 2019 where a salesperson lauded the sustainable city as a wonderful and luxurious place to raise kids, receive great medicare care, and retire as there was "no climate change" in this utopia. After the trip, Nguyen began to imagine Forest City as an aspirational and utopian nation. Her first body of work about this debuted in the Summer of 2020 at her solo show at Smack Mellon in Brooklyn, NY.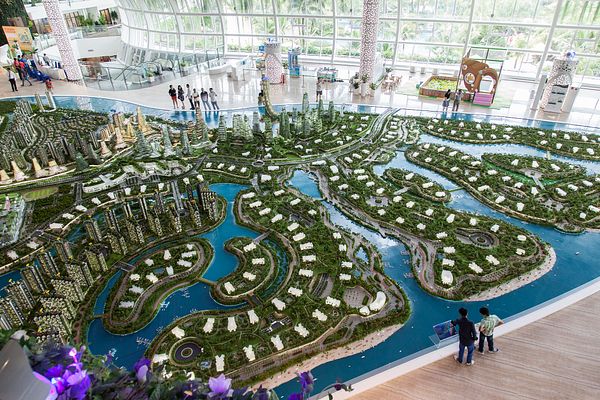 Forest City, a tax free, man-made island in Johor, Malaysia that served as the inspiration behind Freehold
The four people depicted in this series are four imagined military leaders for this fantasy nation of Forest City. But, perhaps most significantly, these four leaders were head figures at the Bandung Conference of 1955 where 29 African and Asian countries convened to denounce colonialism and imagine a world non-aligned with the West. The four leaders in these paintings and their titles during the conference are: Chou En-Lai, the Premier of China; Carlos Peña Romulo, the Secretary of Foreign Affairs of the Philippines; Jawaharlal Nehru, Prime Minister of India; and Gamal Abdel Nasser, Prime Minister of Egypt. All of these figures played key roles in the dialogues at Bandung and the world speculated on their intentions because of their geographic location, geopolitical stance, and relationships with America and the Soviet Union.
Folded into each painting is a bird of prey painted in metal leaf, looming above and intertwined with each figure. Referring to the use of precious metals in illuminated manuscripts, which were reserved for sacred elements thereby increasing the monetary value of holy images, the birds hover in place of a halo. This use of material fuses the magical quality of metal to the concrete value of the work as an object. The figures in each work vacillate between representation and abstraction, composed of calligraphic marks. As in many of her recent works, Nguyen's painting style fuses the figure with ground, distorting the hierarchy and distinction between the two spaces. Tropical flora, abstract shapes, and marks break down the iconic images, allowing the natural elements to once again become unruly.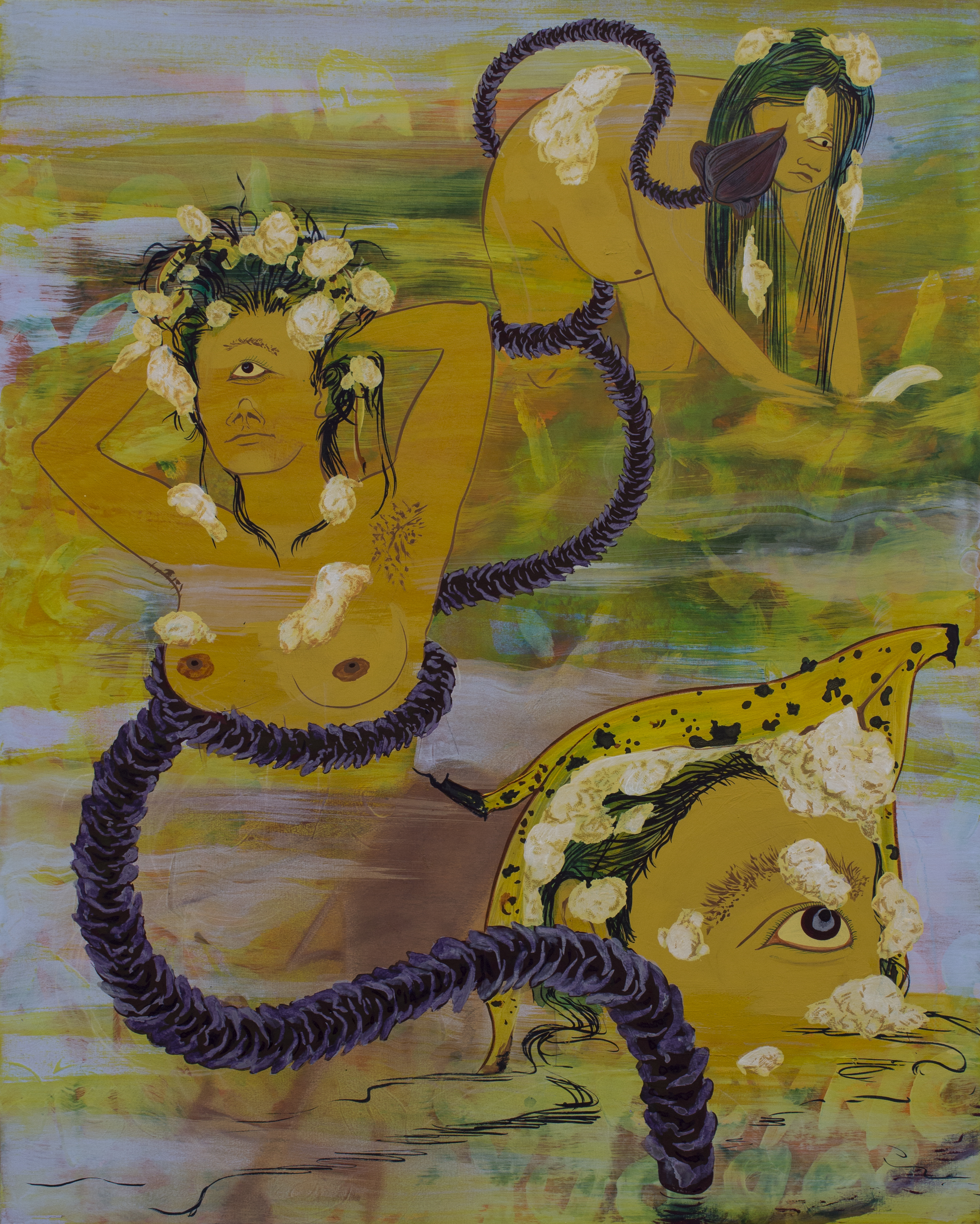 ︎︎︎
Freehold Exhibition PDF
Freehold by Tammy Nguyen is featured at Tanjong Pagar Distripark, Singapore from January 15-23, 2022 for S.E.A. Focus 2022.